Things to do and see!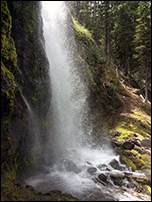 Let the world fade away, relax and just enjoy nature and all it's beauty.
There are many things to do and see at Pine Shadows Getaway Resort:
THINGS TO DO AT PINE SHADOWS:
Close your eyes and listen to Pine Shadows Songbirds.
Enjoy fresh vegetables from the community garden in July and August (always a treat!).
Enjoy the company of friends and family and reminisce about the good old days.
Play fun lawn games.
Yard Chess 'n Checkers and Bocce Ball Court.
Enjoy a personal campfire.
Sit by the nearby brook or river while enjoying a good book, favorite drink, or just dabble your toes in water.
Stroll Pine Shadows nature trail.
THINGS TO DO IN THE AREA:
4th of July Celebration, Prairie City.
John Day Golf Course. Friendly atmosphere and a fun golf course to play (beautiful drive of only 30 minutes away).
Hiking, walking, fishing, bird watching and wildlife viewing.
Trek the trails of Strawberry Mtn. and the Monument Rock Wilderness.
Fish the John Day River.
Cruising the Logan Valley Loop, bikers and bicyclists.
Kayaking Magone Lake.
THINGS TO SEE IN THE AREA:
Visit the quaint Western town of Prairie City and it's great gift shops.
Visit the Wild and Scenic Rivers, John Day River and Malheur River.
View Logan Valley Wildflowers.
Visit the Covered Wagon Overview of Strawberry Mtn. and the John Day Valley.
Visit the Kam Wah Chung Museum, John Day.
Visit the Dewitt Museum, Prairie City.
Visit the Grant County Museum, Canyon City.
Visit the Sumpter Valley Dredge State Heritage Area.