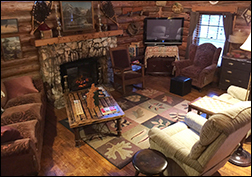 Pine Shadows Getaway is located outside of Prairie City, Oregon, a delightful little Western town with the Strawberry Mountain Range smiling down upon it. Pine Shadows is open from May 20th to October 1st.
Pine Shadows Getaway is one of the best-kept secrets of Grant County in Eastern Oregon and has been described as a "secret garden" that is nestled in the forested foothills of the Strawberry Wilderness and is now available for you to enjoy. We are at the headwaters of the pristine John Day River and located in the heart of summer and winter recreation.
The name Pine Shadows, calls up visions of summer idyll, quiet splendor with songs of birds, talking waters, and the preaching of the pines are just some of the delicious sounds you will hear. Sunrises and sunsets will warm your soul.
Pine Shadows Getaway is situated under old growth Pines and Firs, where time stops and the world, as you know it, simply fades away.
This is part of the magic you will experience when you stay at Pine Shadows Getaway.
Each cabin has water supplied by a pristine Artesian well to wet your whistle and cleanse your bodies.
Our cabins are 5 stars, PLUS!! As one of our patrons said, "Pine Shadows Getaway belongs in Country Living Magazine", a heartfelt compliment to us.
Upon your arrival, Terry and Joyce greet you with a smile, handshake, and a wealth of information on the area. Pine Shadows is a gated property for ultimate privacy.
Pine Shadows Rustic Resort Cabins are the perfect place to enjoy family times, to recreate, meditate, fish, hike, to heal, or... whatever. Come join us in the perfect place, in a perfect forest and rejuvenate your body, mind and spirit.
A quick 10-½ miles SE of Prairie City, traveling on County Road 62 (Summit Prairie Rd), you enter the calm and beauty of Pine Shadows Getaway Resort Cabins.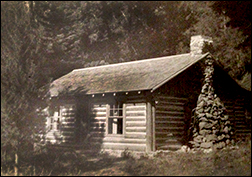 A brief history... This carefree "secret garden" in the Strawberry Wilderness was developed by three friends in the hard times of 1929-1931. All were men of vision with a tremendous love of the outdoors. They were great givers to their community and families. These three friends were very instrumental in the development of the John Day and Prairie City area. All three belonged to the Shriner's and Masonic Lodges.
The Casaday's, Patterson's, and the Benson's enjoyed many happy and quiet times on their little piece of Heaven on Earth. The Benson's first cabin was a little silver trailer parked on his portion of the land.
Joyce reminisces today about the wonderful family times spent on this land. She often thinks about those times. Being carefree children, Joyce and her 2 sisters grew up roaming the 9 acres,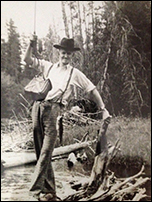 enjoying tree climbing, swimming, tubing the river, running up and down the brook, and the many, many hours spent playing "croquet" in the yard. Another of Joyce's fondest memories was of riding their old dapple gray mare, "Rowdy".
Joyce recalls summer evenings, going with Daddy, fishing poles in hand, up to "Little Meadows' and returning home with their catch for Mama to fry up in the pan along with "Buckeroo Potatoes". Yum!! They were fun times, simple times, and shall always be remembered as, the "best of times".
Through the years, with the passing of family and friends, the sisters eventually inherited the property and then in 1991, Joyce and Terry became sole owners of the property and acquired all the cabins.
Always feeling so special to have this "little piece of heaven" to share with family and special friends, Joyce's Father's dream was always to share this in a big loving way. So Joyce decided to make her Dad's Dream come true!
After convincing her hubby, Terry, to renovate and revitalize the cabins and property, they went on a three year journey filled with long hours, very hard work and a whole lot of love thrown in while updating their little "Shangrila`".
With the tall pines and firs always casting their cooling shadows here and there, the name came easy, "Pine Shadows" and it is now ready to share with you...